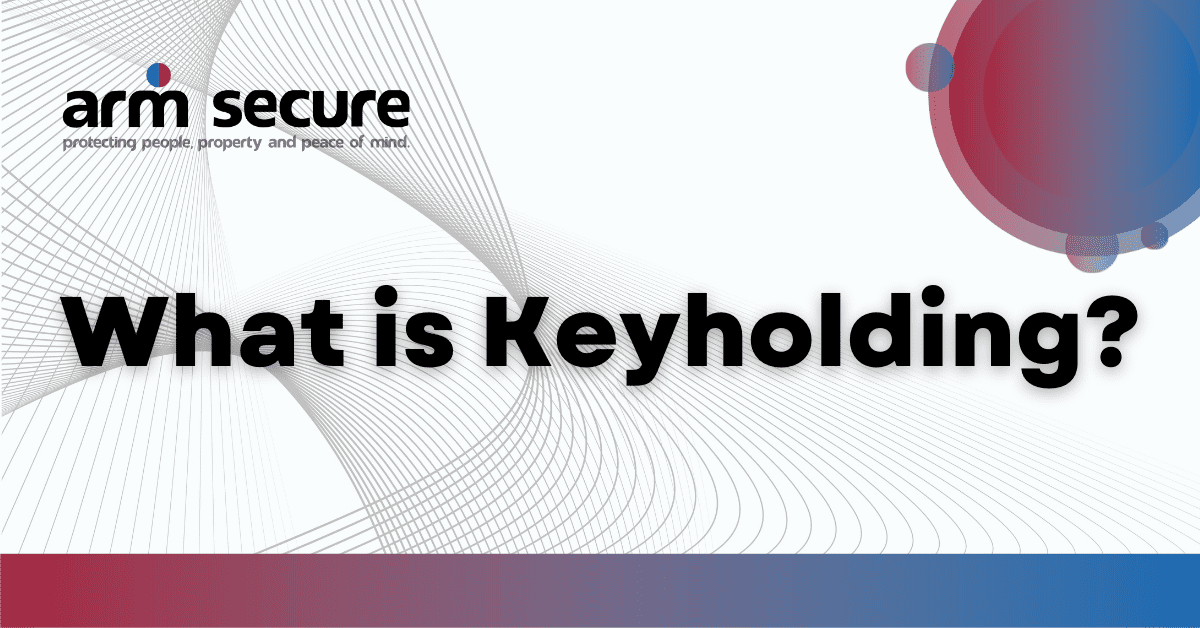 Keyholding Service: What is it?
What is keyholding?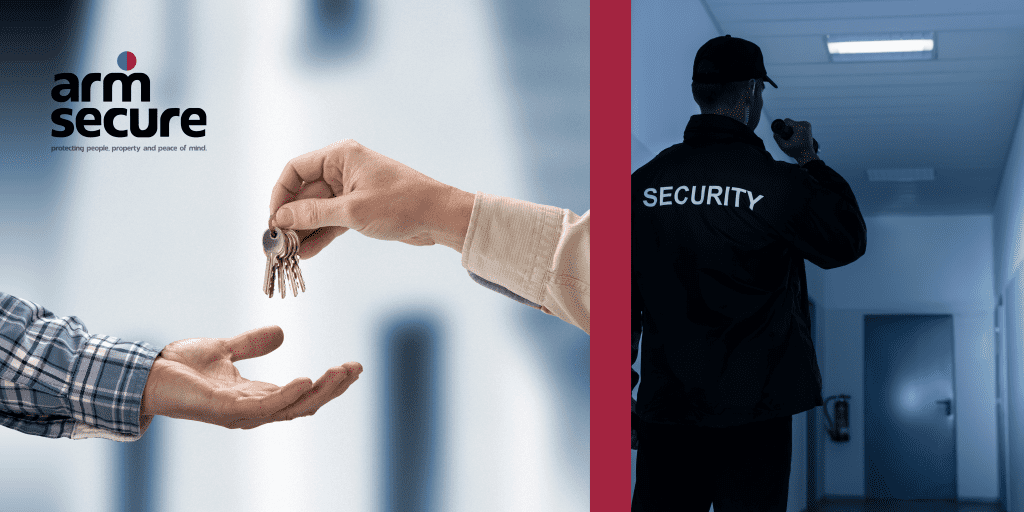 A Keyholding Service is a professional service provided by a security company (us, ARM Secure) in which we are contracted to hold a set of keys to your residential or commercial properties.
Keyholding is often couple with Alarm Response. This means that in the event of an alarm activation, we will:
Be alerted by your chosen Monitoring Station (again, this could be us)
We will dispatch a security team to your property to investigate to alarm activation
Our security team will respond appropriately to the threat. This many mean calling emergency services, or just securing the premises again before they leave.
We will send you a report of the alarm response call out, and you will also be able to view this data on our state-of-the-art security technology platform.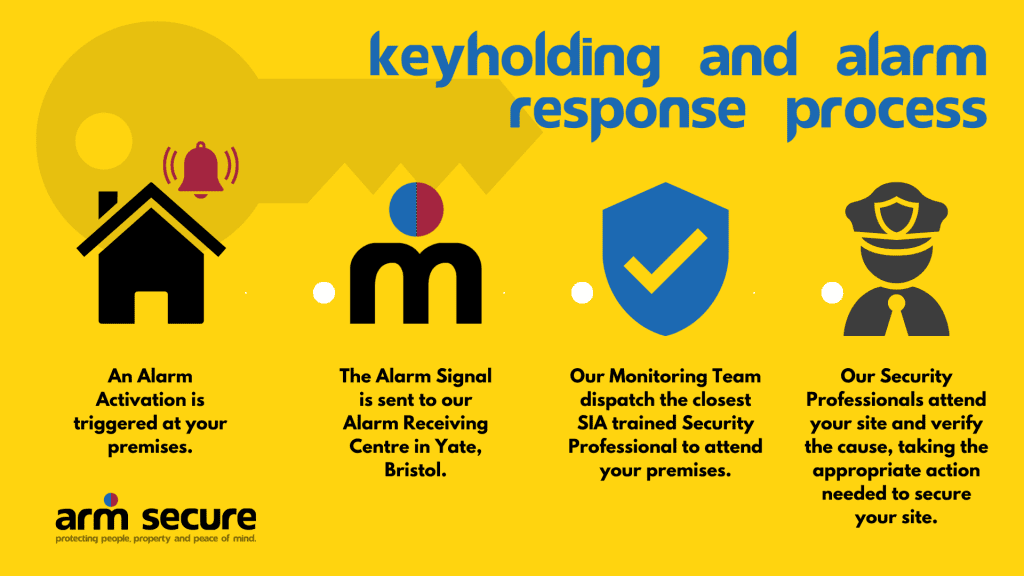 What is a Keyholder?
A keyholder is the designated person who holds the keys to a property in case of emergencies. The reason for this role is that in some industries, there are regulations that require at least one individual to have access to the property at all times.
Emergencies could include a burglar alarm going off; the keyholder would have to get to the site and investigate the reason for the alarm being triggered.
A keyholder can be a security professional, or it can be a member of your company or team. If you choose the latter to be the designated keyholder then you must be aware that you have a legal duty of care for the safety of this individual. Should anything sinister happen to this individual on the premises whilst fulfilling in the role of a keyholder, then you can be fined or imprisoned under the Corporate Manslaughter which is an offence created by Section 1 of the Corporate Manslaughter and Corporate Homicide Act 2007 ('the Act'). It came into force on 6th April 2008, and you can read more about this act here.
Alternatively, you can seek professional keyholding service such as our team at ARM Secure. In the event of a triggered alarm, we will dispatch a security service partner to your premises immediately. They'll investigate the property. They are SIA accredited and highly experienced security professionals and are specially trained in dealing with dangerous incidents. Should they feel they need to involve the emergency services, they will do so. They will secure your premises and provide a full report for you.
When do you need a keyholding service?
When you wan't to keep your People, and your Properties safe and secure.
Benefits Keyholding provides:
✅ Rapid Response to Investigate Intruders/Alarm Activations At Your Site
✅ Prevents False Alarms
✅ Protects Your Employees
✅ Peace of Mind
What type of business benefit from Keyholding Security Services?
✅ Hospitality: Restaurants, Hotels, Bars, Clubs, Coffee Shops…
✅ Education: Schools, Colleges, Universities, Nurseries, Preschools…
✅ Retail: DIY, Clothing, Groceries…
✅ Construction Sites
✅ Healthcare: Doctor Surgeries, Dental Practices, Care Homes, Hospitals, Clinics, Health Centres…
✅ Offices
✅ Factories
✅ Warehouses
The list can go on and on and on…
Who are ARM Secure?
We are one of the UK's leading security companies. We are completely independent from other security companies which means we offer the best rates to our clients, and can provide the very best response times as we are unbiased with our service partners. We have our very own award winning, NSI Gold, Cat II Monitoring Station and we probably monitor a premises you know, or a famous person you may like. Aside from this, we are brilliant at what we do, and we provide our customers with the very best customer service and our Installers with technical advice. You may have previously known us as VRC Monitoring Solutions and Alarm Response & Keyholding. We are part of the Asset Protection Group; a group of Fire & Security Companies with One Common Goal. Protecting People, Properties and Peace of Mind.
Please get in touch with us for enquires about how we can enhance the security of your premises, whether that be residential or commercial.
Email here [email protected] or fill out our security services contact forms located at the bottom of every web page.