Security Services for Your Business Premises
Security is a very broad topic and it's important to have the right security services in place for your business premises. In this article, we'll be exploring some of the most popular security solutions for protecting your premises from intruders.
What Is Keyholding?
Keyholding is a specialist security service in which a professional security firm are contracted to be in possession of your premises keys, and then having the authority to enter premises without prior permission in the event of a security risk.
This is done by possessing two copies of a key to a lock. One key for yourself and one for the professional security company who are providing security services for you. It is important to note that this person cannot provide access to any other parties, whether it be guests or employees, without express permission from the owner of the premises.
To reassure you, all keys are securely logged and stored in line with BS7984, giving you added peace of mind.
Keyholding & Alarm Response services ensure that when your alarm is activated, an experienced fully trained and licensed (SIA) Security Response Officer will carry out a full external and internal inspection to ensure that your property is safe.
Click here to be taken to our Keyholding & Alarm Response page.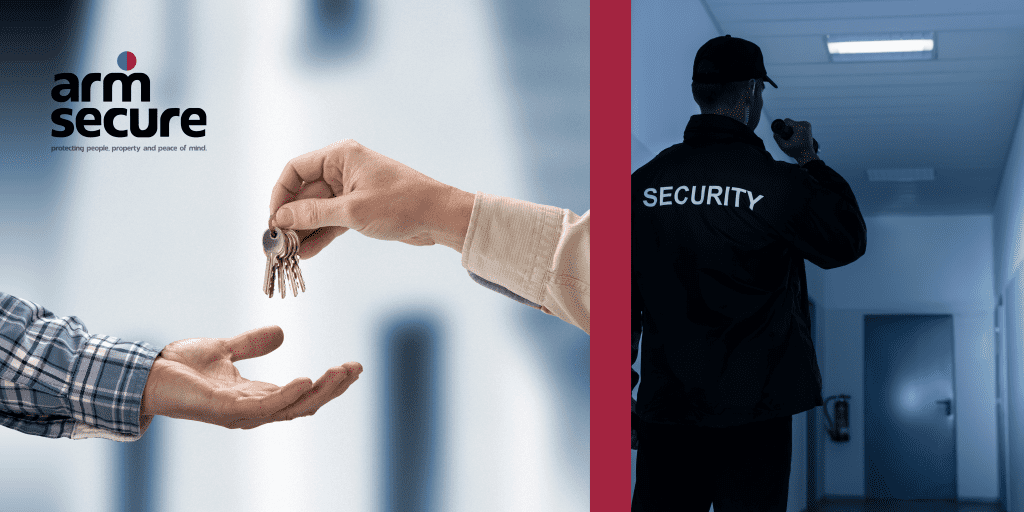 What Are the Benefits of Having a Security Company?
There are hundreds of benefits of adopting a security company to take over the security of your business premises, and each security service that we have to offer comes with it's own unique set of benefits.
The overall, and obvious benefit of having a security company is that we can protect your assets.
We know how to handle any type of risk and defend against criminal activity. The second benefit is that acting on the above will reduce the possibility of threats and unlawful activity from happening on your premises, and so therefore will help save people and pennies.
How To Choose The Best Security Company For Your Business Premises
The first thing an owner of a company should do before seeking security services for their premises is to define the perimeter of the property that needs to be secured. This way, you will be able to narrow down the security options that are available to you when it comes to the time to choose which company will provide their security needs.
The next step in this process would be to ask any questions you have about what type of personnel or equipment you need for securing their premises. But, with our combined years of experience in the security industry, and our highly knowledgeable team, we are best suited to look at your business and recommended security services to you based on your individual needs.
Many of our security team have set up and managed the security solutions for huge premises such as Morrisons PLC and the NHS.
CCTV: Monitoring and Intruder Monitoring
CCTV cameras can be an excellent security tool for the protection of your business premises. It will give you the capability to see what's happening even if you are not there. But sometimes that isn't enough. What we can provide is the Monitoring side to the cameras. CCTV cameras can be a great deterrent to any criminal, but the "smarter" criminals will find them easy to avoid.
With Monitoring, you will have a 24/7 team of control room team members watching your property for any intruder alerts. In the unfortunate event a threat to your property arises, we will be in the best position to call your keyholder or the police.
There are many more benefits to monitoring, and we have add-on services to accompany this to make the security that little bit more effective.
Click here for more information on our Alarm Monitoring and CCTV Monitoring services.
Conclusion
There are many examples of criminals targeting small and larger businesses, especially so after the Covid-19 lockdowns. The last thing you want is for your employees (and yourself) to be living in fear, or to worry about coming into work. With a range of security products for homes and businesses, have us take on the security of your premises and you can take peace of mind into your own hands.

About ARM Secure
We are a security industry-leading, independent Keyholding, Alarm Response & Monitoring specialist in the UK, stopping at nothing to ensure the protection of People, Properties and Peace of Mind.
ARM Secure is the resulting completely independent, security solutions company of a merger between two sister companies belonging to the Asset Protection Group.
The companies, Alarm Response and Keyholding (ARK), and VRC Monitoring Solutions provided separate security solutions to commercial and residential properties across the United Kingdom. By bringing the two companies together we are now able to provide a complete and comprehensive security solution.
Our new company name ARM Secure, is an acronym for Alarm Response Monitoring, and our strap-line has also befitted a makeover allowing us to express exactly what we do in one sentence.