Access Control Systems
Access Control Systems, also known as Electronic Security Systems, regulate the physical access of who enters and leaves a premises, usually with a plastic card or a fob.
Keys can be lost, stolen and very easily replicated which leaves businesses and their assets vulnerable. Replacing keys in the instance of a loss or theft, can be very costly. Making use of an Access Control System can help to increase security to a premises.
Benefits of Access Control Systems
Access Control Systems are an easy solution to manage physical access security. Once your Access Control System is set-up, you no longer need to worry about keys, and who has access to a room or building. 
You can very easily set access dates and times for your cards, or certain cards. You will be able to give each card specific authorisation zones, and take them away just as easily.
If a card goes missing or is damaged, it will take a few minutes to issue a new one, taking away the hassle of replacing traditional keys.
All businesses have assets and employees they need to protect while maintaining a positive working environment and not restricting people's access to where they need to be. It's common where buildings are secured by locks and keys, human error leads to unlocked doors and a big opportunity for criminals to commit theft or damage. ARM Secure's operators will never verify the entry of anyone that has not been disclosed to us by the business.
ARM Secure's Access Control Systems take away the hassle of entry and exit to the premises and checking credentials on-site. ARM Secure's Access Control System makes it easy for employees of businesses with multiple locations or sites to move between them without issue.
The system is linked to ARM Secure's Remote Video Response Centre where we keep a safe log of data. This data allows you to maintain a record of entry and exit, who has access to the building and when, as well as identifying consistently late employees, enabling you to manage your workforce effectively.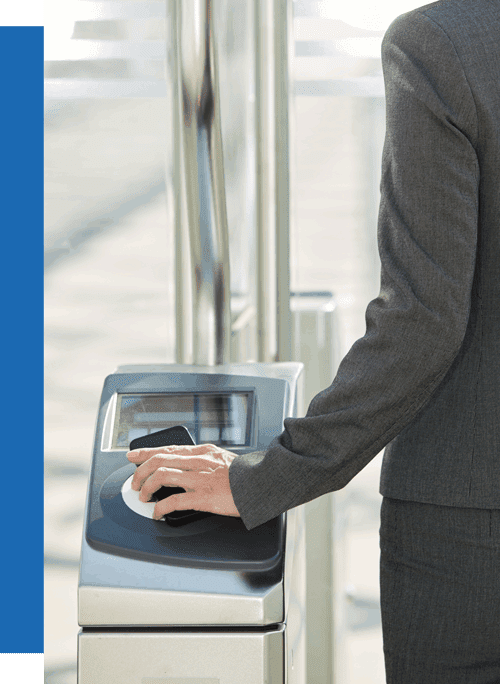 When electronic access cards are lost or stolen, unlike with keys, access rights can be withdrawn immediately which renders the card inactive and prevents unauthorised personnel on the property. If thieves can gain access to the property before anyone on the business notices, ARM Secure operators can identify when security was breached and where the intruders are located. We will follow a pre-agreed course of action, notifying the necessary people including any required Keyholders that need to attend or emergency services if the threat is viable.
Additionally, if a business is secured by a gate or a barrier operated via an intercom system, this can be directly linked to ARM Secure's Remote Video Response Centre.  Our experienced Monitoring Operators can verify the details against agreed procedures or matrix. This may include any frequently received deliveries. If it is verified, the gate or barrier is raised remotely, this is typically through an on-site DVR (Digital Video Recorder). If the details cannot be verified, in accordance with the pre-agreed procedures, they will be refused entry and asked to leave the site.