Alarm Monitoring: Everything You Need To Know

Alarm Monitoring is different with ARM Secure.
We understand you as Installers, providing you with first-class technical knowledge, and a world-class alarm monitoring service to your customers.
We're an NSI Gold Category II Alarm Receiving Centre, and we're also ECHO Connected.
Alarm Monitoring: Site Commissioning
Our Monitoring Station operates in Bristol, 24 hours a day, 365 days a year.
We have a dedicated Technical Support team who are highly experienced in handling any Installer queries over the phone, when you need them.
We are able to provide Alarm Monitoring Services to around 99% of Alarm system and CCTV system manufacturers.
Visit our Installer area to view the Alarm and CCTV brands that we are compatible with.
In most cases, we are able to commission a site and begin monitoring the same day.
Our Alarm Monitoring costs start from as little as £39 for the year, depending on what device and alarm system is being installed.
Worth every penny for that extra Peace of Mind!

Alarm Monitoring: What You Need to Know if You're Responsible for the Premises
If your premises and alarm system is being monitored by our Alarm Receiving Centre in Bristol, then you might want to know the process in the event of an alarm activation.
You will have chosen your own Keyholders (We also provide a UK Leading Keyholding Service).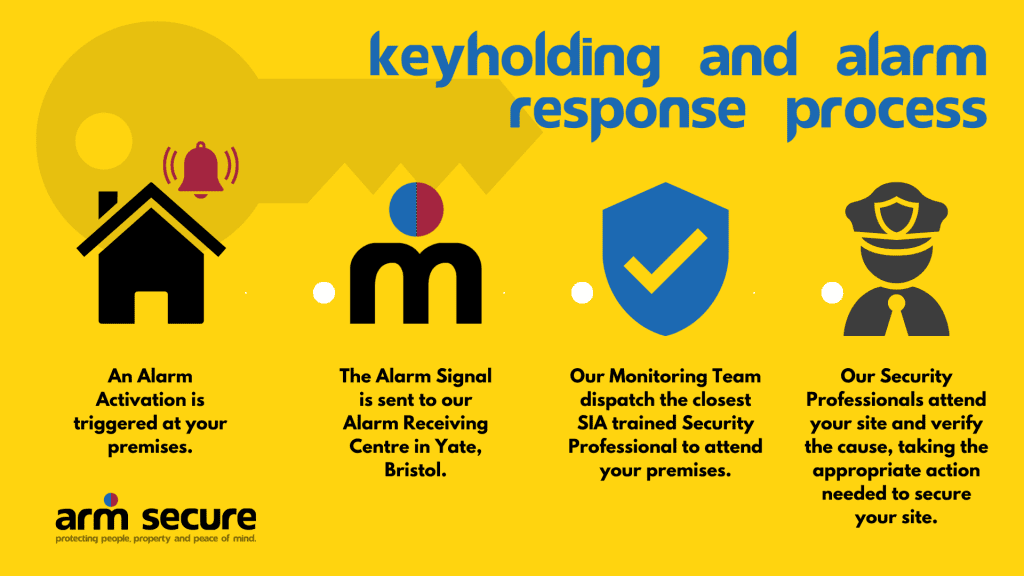 Alarm Response Process following our Alarm Monitoring
An Alarm Activation is triggered at your premises.
The Alarm Signal is sent to our Alarm Receiving Centre in Yate, Bristol.
Our Monitoring Team dispatch the closest SIA Trained Security Professional to attend your premises.
Our Security Professionals attend your site and verify the cause, taking the appropriate action needed to secure your site.
If you have Keyholding Services through us at ARM Secure then you will receive a digital report of the alarm activation and the steps taken to secure your property.
About ARM Secure Keyholding Services
ARM Secure is a leading provider of Keyholding, Alarm Response, Manned Guarding & Monitoring Services across the UK. Our business has been established for 20 years, in which time we have perfected effective, bespoke monitoring solutions to protect people, their properties & ensure peace of mind for our customers.